Burgess Brothers' Burgers
Wednesday, August 22, 2012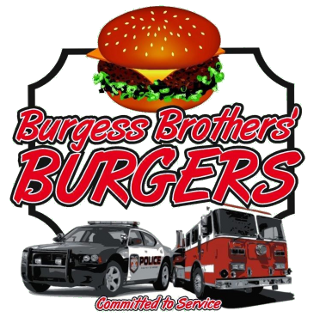 There is a new place to eat in the neighborhood I work. Burgess Brothers' Burgers opened Monday at 2114 Sutterville Road. In my time this place has been at least two pizza places, a cafe and now a burger shop. Regardless of what it is this place has always held a special place in the hearts of those who work at All Saints. Sandy Burgess is the most recent in a string of small business entrepreneurs to try to make a living out of this little shop across from city college, and we will enjoy cheering her on and being regular contributors to her success.
So, on Tuesday I wandered over to see what the latest incarnation of 2114 Sutterville had become. Burgess Brothers' Burgers is a hamburger stand with barbecue sauce. The menu is mostly centered around ground beef patties, but there are also ribs on there, as well as some other barbecue specials.
The place has a Police / Firefighter theme inspired by the epitomes Burgess Brothers – one a Fireman with Sac Metro Fire, the other an officer with the CHP. It is a bit of a switch to see the eclectic art displays of United Cafe (the former incarnation of this building) replaced with pictures of police and firefighters doing what they do best, along with uniforms and memorabilia of the same theme.
The food is good, there is no doubt about that. It seems to me to be inspired by firehouse fare. I had a Puppy Burger which is a hamburger with barbecued pork on top. definitely tasty, but unless you run into burning building for a living, not the kind of thing you can eat once a week and maintain your current weight. I wanted to start with something that was the house speciality, but I may need to look at other parts of the menu, because we all know that it will be too tempting to just walk down the street a few doors when I get hungry.
Perhaps the best part of Burgess Brothers' Burgers is Sandy Burgess, the owner. I love being able to walk into a place and have the owner know who I am. She is working very hard not just to find clients but develop relationships with her customers. She is the kind of small business owner who you want to succeed, and I hope she does.